Secret Of Mana - Super Nintendo (released 1994)
3rd game review so far, and easily the best of the bunch! If you have never played this game in the 13 years since its release, then you are really missing out. This game NEEDS to be on the Virtual Console, and I am praying that Nintendo and Squaresoft come to an agreement to allow everyone to have a go at this RPG masterpiece.
The game is an action RPG, which was a break from the norm for Square at the time, who were used to churning out turn-based RPGs like Final Fantasy. Secret Of Mana's chief rivals at the time was Zelda 3 : Link to the Past, and Soul Blazer. So no random battles like in the FF games. Secret of Mana did still use hit points though, and levels. So the more enemys you faced, the stronger you would become. The control system was very intuitive and there were many weapons and magic skills that could be used.
Storywise, the game was nothing out of the ordinary. Young boy pulls out a sword from a rock (sound familiar??), and this causes monsters to awake. Boy is banished from his home village and then sets out to save the world. He teams up with a small sprite character, and a girl. What sets this apart from other games of the time was that this was actually multiplayer! So you could dig out your SNES multitap, and you and two friends could team up simultaneously to save the world! The CPU controlled the other two characters (which you could switch between at any time).
Presentation wise - this game is rather beautiful, especially by 1994's standards. The game looks lovely, and is very colourful. The places and villages you go to, the characters you meet all look very different. There is also a fabulous MODE 7 treat when it comes to the flying scenes. You befriend a dragon who takes you all over the games world, and this is so well done. This game is a real looker. Another plus point is the sound: Secret Of Mana's sound track is wonderful throughout. Square really made the most out of the SNES's audio abilitys. This game would have really been compromised on other platforms like the Megadrive/Genesis.
Secret of Mana is a long game, and is challenging as well. The world map is huge, and there are plenty of friends and foes to meet on the way. We're talking 40 hours plus of gameplay on this cartridge. So at the time, well worth the £40+ price tag for the 16Mb game.
I love this game, can't really say anymore, and can't recommend it enough. Do pick this game up from Ebay, or download it....you won't be sorry. One of the best games on the SNES, and therefore one of the best games of all time.
[SIZE="4"]
Score : 9.5/10
[/SIZE]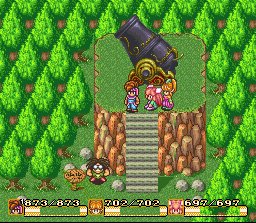 mazda parts car
brake repair estimate